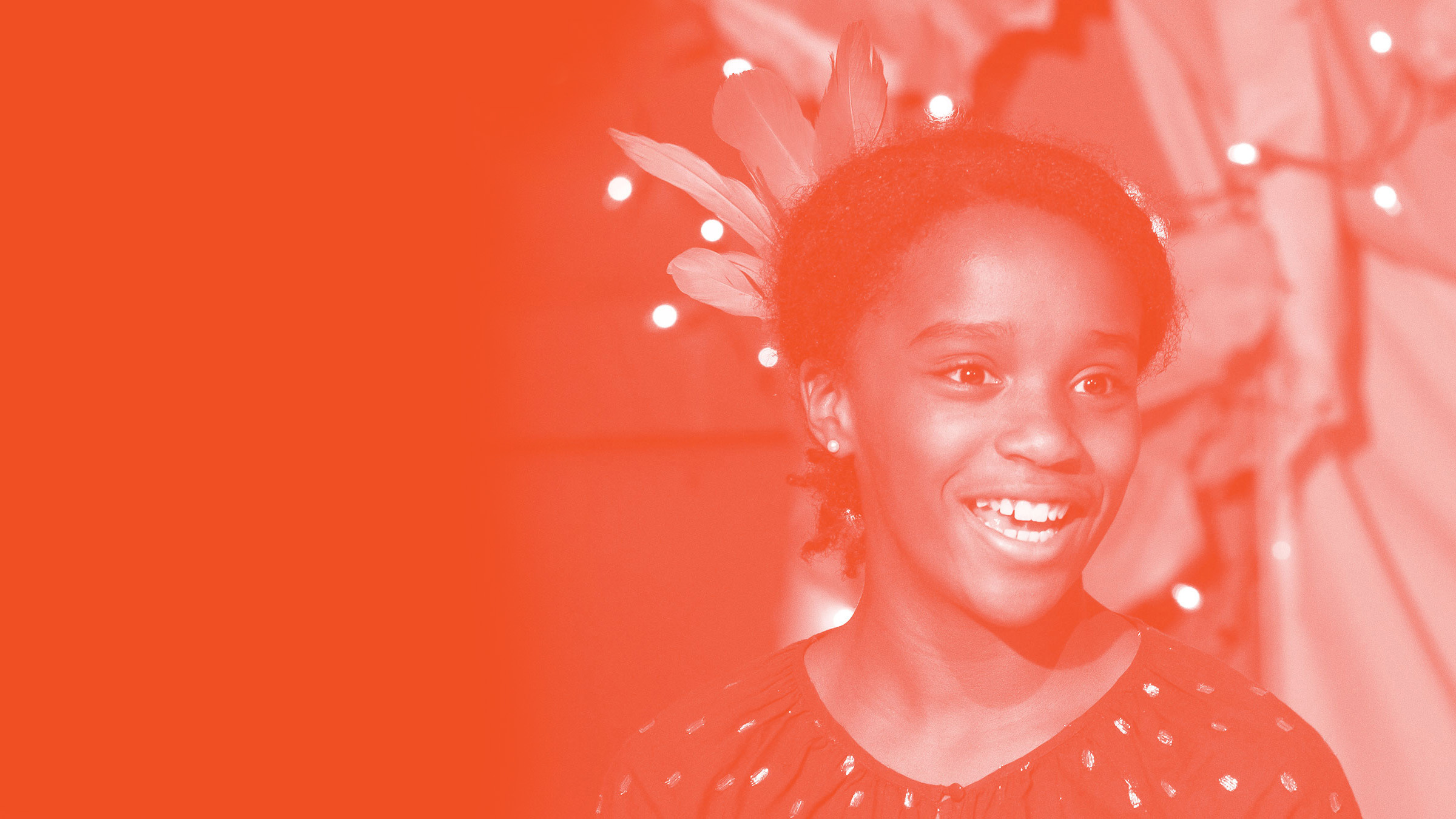 Summer Camps
for ages 4-15.
Summer Teen Ensemble
for ages 15-18.
Thanks for a great
summer season!
We invite your young ones to continue playing, creating, and forming lifelong friendships. In addition to creating characters and scripts, young actors have opportunities to produce their own work. Each class has a focus that varies from musical theater to sketch, improv, scene study, film/TV, and more, but are all rooted in the Atlantic Technique.
Ready to be back in the classroom? Us too! Learn more about our in-person fall kids & teens classes here!
COVID-19 Update:
In order t​o safeguard the health of our entire community, we are requiring Covid-19 vaccinations for all incoming and returning students ages 12 and up, as well as all Atlantic employees, no later than August 30, 2021 (with a final vaccination dose no later than August 16, 2021). And all of our facilities have been upgraded to meet and/or exceed air filtration standards as recommended by the CDC.
We are also closely monitoring fellow arts organizations as well as the Department of Education's Covid-19 protocols for studio spaces and classrooms. Our studios will mirror those recommendations come October in terms of social distancing, mask wearing, etc. We will provide a comprehensive update to these policies in September. Stay tuned! Also, please note that we will not be holding in-studio performances for our kids and teens classes this fall, but will be providing a filmed version of many final shares for families to enjoy on their own time!
Questions? Feel free to email us at education@atlantictheater.org.
Testimonials
"Our kids have both loved their virtual Atlantic classes throughout the pandemic. We have tried a variety of virtual activities, but the Atlantic classes have been their favorites by far, and the instructors have been absolutely amazing."
– Candice Lee, Parent
"I just wanted to thank Atlantic Acting School for offering your camps remotely this summer. Your camp has meant the world to our daughter not only because she loves dancing and acting but because the teachers have done such a great job including all the kids. She's really come out of her shell again."
– Annie Judah-Shannon, Parent
JUNE
Mini-Mystery Radio Play
Ages 8-11
JUne 21-25, 2021 | 4pm – 5:30Pm ET
Who doesn't love a good mystery? That might be the ultimate mystery. And though we won't solve that in this class, students will learn how to — you guessed it! — write a short mystery. Students will be given writing prompts and taught how to incorporate classic mystery tropes into their story (hiding clues in plain sight, weather report narration, red herrings). The finished mysteries will then be turned into a short radio play/podcast that students will perform with only their voices and sound effects in the style of a classic radio drama.
Young Actors On-Camera Acting

Ages 11-15
JUne 21-25, 2021 | 11Am – 3Pm ET
Young Actors will spend their days in front of the camera with three specific areas of focus: On Camera Technique, audition techniques, and monologues. Students will be introduced to elements of the Atlantic acting technique, including script analysis and moment lab. They will apply these new techniques to Film and TV copy. This session is perfect for students looking for an introduction to helpful auditioning skills and experience in front of the camera.
JULY & AUGUST
Summer Mini Camps
Choose your own adventure! Mix and match the Mini July and August Camps below to create the perfect schedule for your summer days! We are offering morning (10am-12pm) and afternoon (1:30pm-3:30pm) options, Monday through Friday. Each class is $225, but enroll in 4 sessions to receive a 10% discount! Engage your child's imagination while they perform, create and develop their acting chops, all while making theater friends from around the country and beyond!
Ages 5-7
Performers Theater!
This online kids acting class is a great opportunity for kids to use their energy, have fun, socialize and laugh while they explore performance. Through moderated theater and improv exercises, participants will be playing, moving and creating. There will be stories, character development, costume play and an opportunity for them to use their imaginations to help build a whole new storybook world.
Performers Dance Party!
Participants will get moving to some great Broadway and pop tunes as they explore and invent characters and have fun with sing-alongs. Performers should bring their dress-up imaginations, their inner Broadway star and find the perfect outlet for creative expression! Each day will be spent exploring new songs and exciting creative theatrical themes.
zoomsical
Perfect for the budding musical theater enthusiast/performer. Participants will sing along to favorite musical numbers, will be introduced to Broadway dance moves and will create their favorite character tagline. Performers will end each day with a song in their hearts!
Zip Zap Zoom!
This online kids acting class is the perfect way for participants to make new friends, have fun and laugh. They will get their minds and bodies moving as they engage in acting exercises, and have tons of silly crazy fun playing the "best of" most popular theater games from Atlantic's Off-Broadway Theater team of Teaching Artists. Come join in the games!
COMEDY Party
This comedy class is dedicated to creating jokes and skits. Participants will play acting games to warm up and will get specific comedy prompts. The goal will be to make their teacher and fellow comedians laugh! Each day will include a surprise theme as fresh new comedy is invented on the spot.
Ages 8-11
Zoomsical!
Perfect introduction for the young, aspiring musical theater performer. Participants will learn a cool dance number from a Broadway show, work on a monologue and learn one of the hit songs from a show. Examples include Matilda, You're A Good Man, Charlie Brown, Seussical: The Musical and Dear Edwina.
Creators Film
Participants will be cast in and work on short scenes and monologues from popular TV and film scripts. They will be coached and rehearsed throughout the process and each student will leave the class with a video recording clip of their original work.
Acting 101: Monologues
This course explores the Atlantic Acting Technique, which is taught at the Atlantic Acting School's conservatory and NYU programs. Actors will be cast in a part and work on a monologue with a focus on learning the foundational skills of "action" and "moment," while learning to take direction. Pacing, blocking and vocal expression will be introduced.
Create a Film Monologue
Participants will develop writing, self-expression, and acting on-camera skills while delving into personal exploration in this virtual class. The class will begin with a writing exercise and an acting on-camera introduction. Improvisation techniques, games, and writing prompts will be further used to help develop scripted material. Monologues will be coached and rehearsed throughout the process, and each participant will leave the class with a video recording of their own original work.
Sketch Comedy!
Participants will learn classic comedic elements to create a unique virtual comedy sketch. They will develop comedic timing and explore the creative process as both performers and writers. They will generate comic scenes and skits and get creative with the medium. From solo performance to creating videos and animated skits, participants will be able to create a sketch from their own imaginations.
Creators Play
For any young and imaginative performer looking to work with a director/playwright to create/rehearse a short play. This short play will feature characters inspired by classic and contemporary fairy tales, myths, and legends. Participants will bring their own creative voice to the characters as they prepare for an invited virtual workshop performance for family and friends.
Acting 101: Improv!
Designed to strengthen actors' creative impulses and their ability to create comedic bits on the spot. Participants will form an improv troupe and prepare for a virtual interactive improvisational showcase for family and friends.
Ages 11-15
Musical Theater Rep
Perfect for the young musical theater actor. Participants will learn the professional choreography from a contemporary Broadway show, work on a monologue and learn one of the hit songs from the show. Examples of shows include Mean Girls, Hamilton, Hairspray, Spiderman: Turn Off the Dark, Footloose.
Scene Study
Young actors will be cast in a scene and introduced to the basics of the Atlantic technique. They will explore their scene through script analysis and develop a fundamental understanding of character motivation, action and tactics. Memorization and rehearsal required.
Mini-Film Project
Actors will be cast in a scene from a contemporary or classic hit film. Actors will gain an understanding of how to make interesting choices quickly and will be directed by their teacher for a final taping of their scene.
Film MonologueS
Actors will be cast in a role from a well-known film. They will get direction from their teacher to develop a strong performance. A great class for the young actor who is looking to add to their roster of monologues. From comedic to dramatic to classical: actors will have the opportunity to work on their preferred style or stretch themselves in a new genre.
TV & Commercial Acting
Actors will workshop TV/Commercial copy. Participants can expect to learn fundamentals of the Atlantic technique, specifically for television and film auditions and performance. The nuances of performing for the camera will be addressed and students will gain confidence in front of the camera.
Sketch Comedy
Participants will workshop and develop sketch comedy scenes through improv and ensemble driven writer's room style work sessions. Incorporating comedic elements, developing characters, monologues and scene work. We will tape the best bits to be shared as a highlight reel.
IMPROV
Designed to strengthen an actor's creative impulses and ability to create comedic bits on the spot. Actors will form an improv troupe and prepare for an improvisational showcase. Great for the young actor looking to stretch themselves and discover what it means to be in the moment during performance.
Casting & Auditions
For young actors pursuing a career in film and television, this is a fun and challenging on-camera audition technique class. Actors will be given audition copy, experience a cold read and learn how to make specific character choices when auditioning. Actors will also be advised on industry standards for headshots, reels, resumes and the process of seeking representation.
Summer Teen Ensemble
Ages 15-18
July 12 – August 6, 2021
MONDAY – FRIDAY | 11am – 6pm EST
Due to the ongoing pandemic, this program will be offered remotely.
A 4-week pre-college intensive that provides young adults the opportunity to practice professional acting techniques in a supportive and collaborative environment. The perfect introduction to the personal growth and rigor that emerge from conservatory-style training in voice, speech and movement. AUDITION REQUIRED.
Tuition: $2,750